Nothing says "I'm domestic" more than preparing apple pie from scratch. It conjures up every image of a 50's house wife wearing an apron with perfectly curled hair in a suburban subdivision that I can think of. In reality, I would run away from fitting into such an image and have a severe lack of domestic intuition but I'm trying to become more "at home" in the kitchen and when I have a success, I am quite proud of myself.
Lucky for me, a woman from church volunteered to be my apple-pie-making-coach. She is an expert in my book, having grown up with a fruit farming father and a pie making mother, so I really couldn't ask for a more ideal leader. I had never even cored an apple so my coach truly had her work cut out for her!
The pictures ended up out of order but I will walk you through it......
STEP 7: Bake.

We made a second pie more of the Dutch Apple persuasion for Hubby's enjoyment. I took it home, tossed it in the oven for about an hour and we both had a late night apple delight before the first episode of the new season of The Walking Dead. Amazing show, and, if I do say so myself, AMAZING PIE!!!!! Hubby really liked it and he's picky so I was extra proud. And I thought it was pretty scrumptious, too. Or maybe I could just taste all the heart I put into it:)
STEP 5: Sugar and butter!!!
STEP 4: Pie crust rolled out and placed in pie tin, apples and crust meet for the first time.

I was ridiculously awful at using the rolling pin on the crust. I did, however, use my rolling pin like a foam roller on my hamstrings on Friday night and it was really helpful:)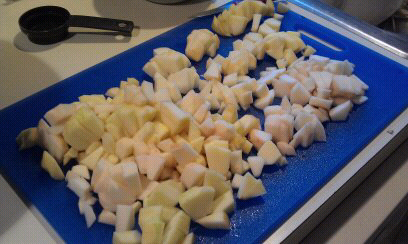 STEP 3: Cut your apples.

Again, having never even cored an apple, I felt a bit arthritic at the end of peeling about four of them. Thank goodness for the help or I might have thrown in the towel at this point.
STEP 1: Wash your apples
STEP 2: Dough.

We used a "miracle dough" recipe that included vinegar and I was told this was extra hearty and forgiving. Putting the Crisco in was pretty revolting but 1 3/4 cups spread over 5 pie crusts eases the pain a little, I guess.
STEP 6: Pie crust on top, fluting on edges (tougher than it looks) and knife hole decor on top and viola!!

I actually bagged this one to stick in the freezer. How much apple pie can a family of two really consume at once?